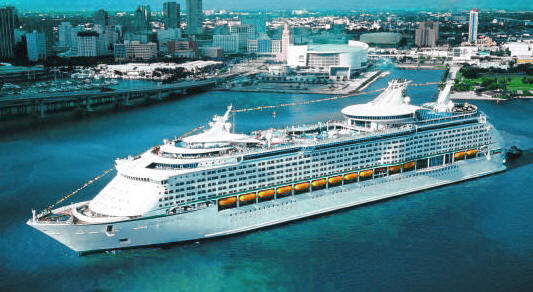 Explorer of the Seas
There's never been a ship like this. Enjoy never-seen-before cruise features like a skating rink, a rock-climbing wall, a street fair - and more. There was only one way to accommodate all of these innovative ideas....build a bigger ship ! The 142,000-ton, 3,114-guest Explorer is the largest in the world and boasts the highest space-per-guest ratio in the cruise market - and includes enhanced staterooms, expanded dining options and exceptional recreational facilities.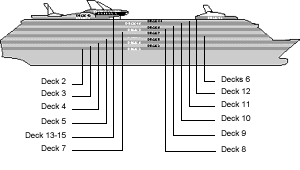 Passenger Capacity:
3,114
Tonnage:
142,000
Built:
2000 (Maiden Voyage was October 28, 2000)
Length:
1,020 feet
Beam:
157.5 feet
Draft:
25.5 feet
Space Ratio:
45.6
Passenger Decks:
10
Elevators:
10
Safes:
All Staterooms
Passenger Cabins:
900 (575 outside / 327 inside) total.

Average Stateroom Size:
140 Sq. Ft.
Number of Crew:
1,176
Crew Nationality:
International: Officers
International : Hotel Staff
International : Cruise Staff
Maximum Speed:
22 knots
Registry:
Norway
Internet Service
Yes
Dining Hours:
6:15 pm (First Seating) and 8:30 pm (Second Seating)

Casual Dining in the Windjammer Cafe
6:30pm - 9:30 pm (Except last night of the cruise)
Entrance Staircase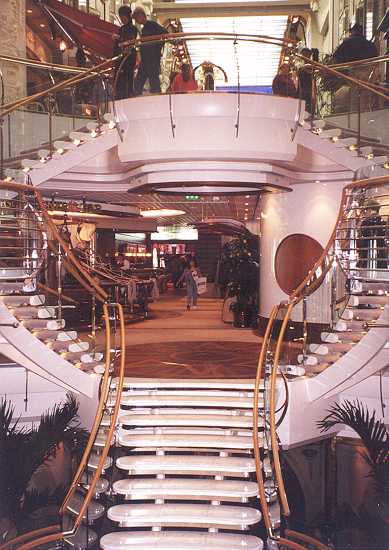 La Scala Theatre
ROYAL Promenade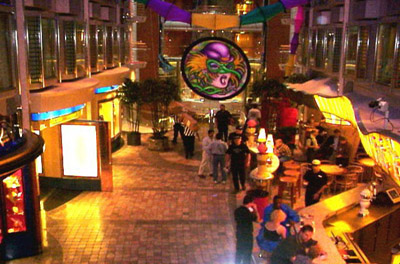 The Royal Promenade, cruising's first horizontal atrium, is two football fields in length and four decks high. With a wide selection of shops, restaurants and entertainment the Royal Promenade will be the place to be.For starters, Royal Promenade has more shopping opportunities than any other ship at sea. You'll find boutiques and specialty shops of every kind - from jewelry to perfume to china to liquors. And that's just the beginning. Savor your favorite brandy at the Connoisseur Club. Or, if you're a sports fan, drop by Spinners bar. Plus, at any time, you can enjoy a delicious meal at one of the around-the-clock dining options. Between the shops, dining and colorful street festivities, you'll find an ambience comparable to that of New York's Times Square or London's Burlington Arcade. The Royal Promenade is truly a revolution in cruise ship design. And through the only staterooms at sea with an interior view, you'll look down on an exciting and bustling street life below.
CASINO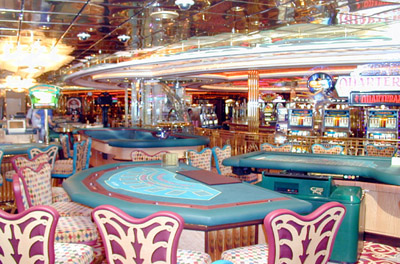 ATRIUM BARS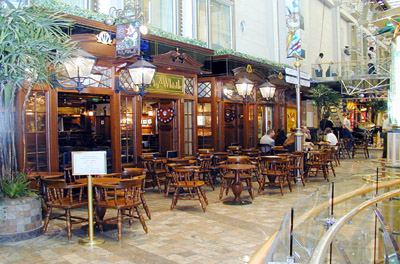 LIBRARY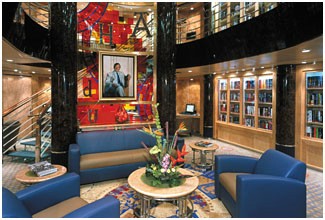 SPECIAL FEATURES
Ice Skating Rink
Take a shot at a double axle in the only ice skating rink at sea. Or, once the rink is converted to a stage, settle in for an unforgettable show in the same unique area.
Not long ago, anyone who suggested booking the Ice Capades on a cruise ship would have been laughed out of the room. Not anymore. Center Ice at Studio B accommodates professional ice shows and open skating. That is, when there isn't an amazing show happening. See, Studio B is also a 900-seat arena where you'll find rock concerts, games shows, fashion shows - almost any kind of show you can imagine. And when there isn't a performance, the stage is converted to an ice skating rink - the only ice skating rink at sea. RCCL wanted to build a ship with some of the most unique offerings ever seen, and I think you'll find they've done just that.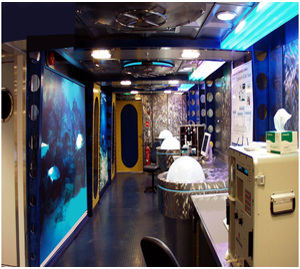 Ocean Lab

The Ocean Lab on the Explorer of the Seas is the first facility of its kind at sea! It gives cruisers the unique opportunity to witness important oceanographic research in progress.Royal Caribbean has collaborated with the University of Miami's Rosenstiel School of Marine and Atmospheric Science to delve into some of the biggest climatic questions of our time. With a visit to the Lab, the Explorer of the Seas guest gets an up-close look at this fascinating study. Filled with state-of-the-art technology, the Lab is helping scientists learn more and more about the ocean and atmosphere with each passing day. The National Oceanic and Atmospheric Administration (NOAA) and the National Science Foundation are also lending their expertise and resources to this project.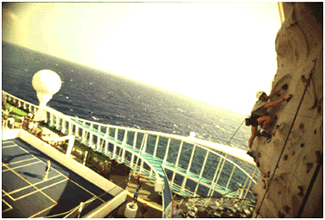 Rock Climbing Wall

When RCCL built these ships, they did so with the plan for them to have special offerings never before contained on such vessels. Voila! We give you the Rock Climbing Wall. Imagine climbing a rock wall, on a ship, in the middle of the open sea, and 200 feet above the sea at that. Come aboard for the cruise of a lifetime, and that's exactly what you may find yourself doing. The unique rock climbing wall is designed to challenge both experts and beginners. It's also designed to give the adventures you'll find on your shore excursions a serious run for their money.
| | |
| --- | --- |
| Whether your game is "horse" or "one-on-one, pickup or team tournament, volleyball or basketball, you'll find a game on the Sports Deck. Some Sports Deck also feature a state-of-the-art golf simulator, a seperate driving cage. | |
POOL DECK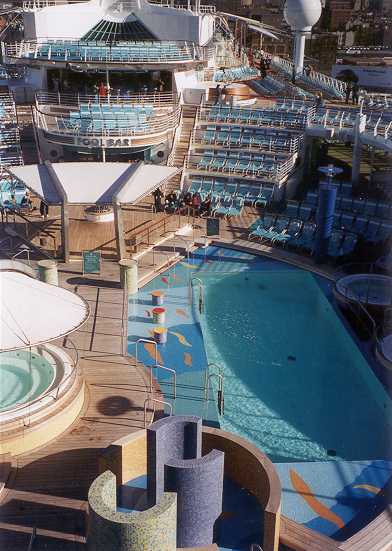 MINI GOLF COURSE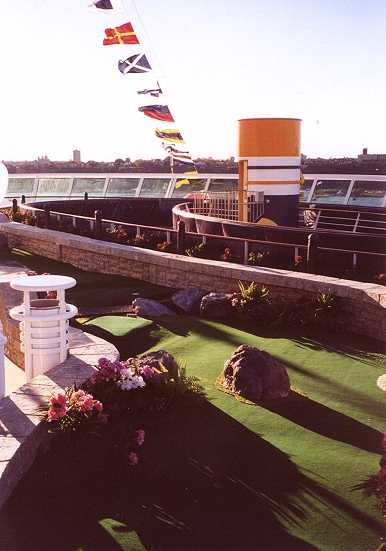 Sparkling spaces, stellar service, tranquil seas. Royal Caribbean invites you to sit back and enjoy the ride. The Solarium pool and spa, with retractable glass canopy is always a perfect place to relax.
DINING ROOM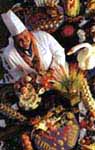 With elaborate ice carvings, tropical fruit sculptures and the most amazing dessert display you'll ever see, every meal is a Royal dining experience.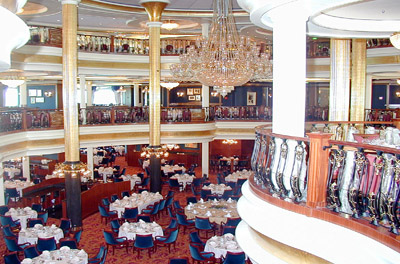 INTERNET ROOM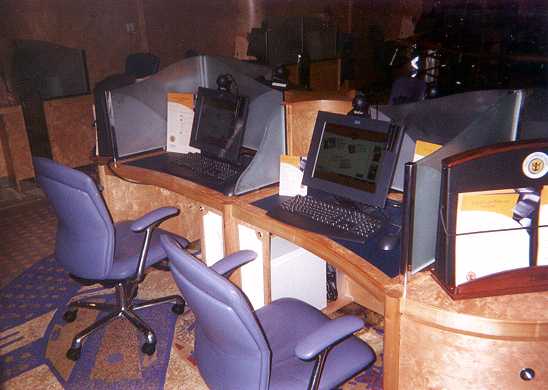 SHOPPING ATRIUM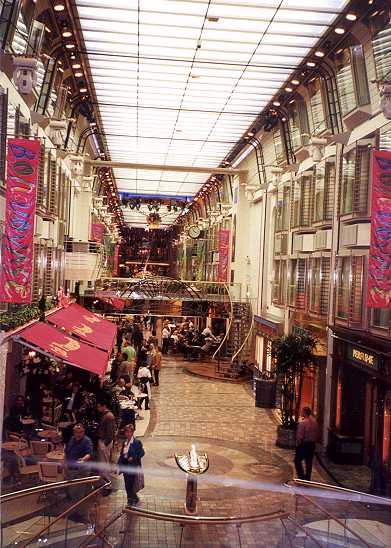 INTIMATE BAR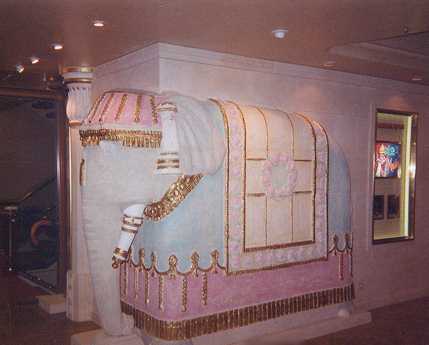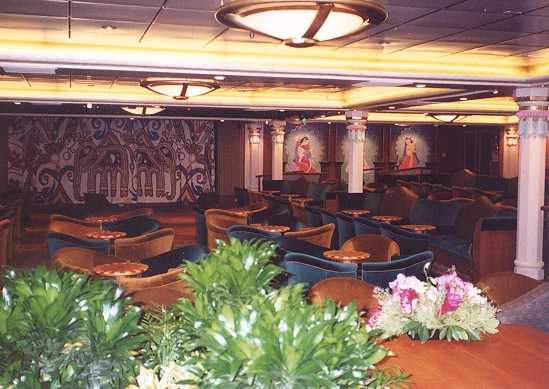 SCHOONER BAR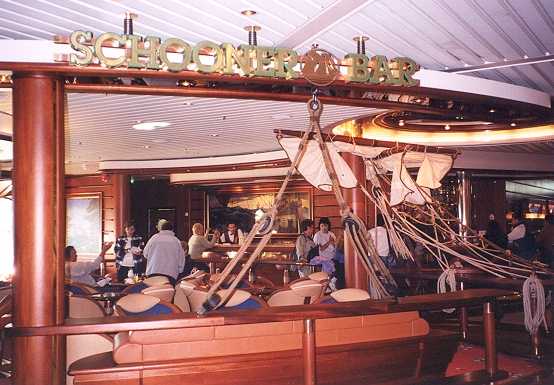 50'S DINER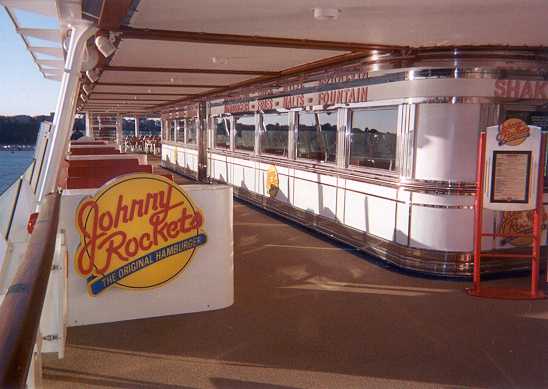 BACKGAMMON FINALS ROOM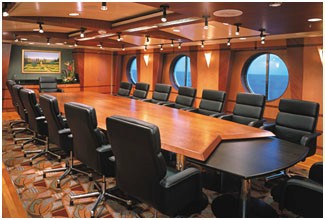 Indeed, there are other guests sailing with you, but with miles of deck space, you'll never be far away from your own private getaway.
A Royal Caribbean cruise, it's like "no vacation on earth".