Nassau, Bahamas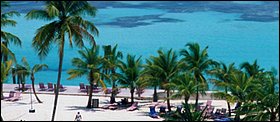 NASSAU GENERAL INFORMATION
The Bahamian capital has a long and intriguing history that's reflected in its colonial buildings and breezy public squares. Though its narrow streets are often mobbed with visitors, you can see most of the city's historical sites on foot. A pleasant way to get oriented, however, is to take a surrey ride around town. You can usually find several around Rawson Square, which is the heart of downtown Nassau, or on Woodes Rogers Walk. (Expect to pay about US$10 a person for a 30-minute ride.)
If you decide to tour the local attractions on your own, you can easily see the major sights in a few hours. At the very least, stroll through Parliament Square, where a statue of Queen Victoria presides over an assortm ent of Georgian-style government buildings that went up in the early 1800s. A few blocks to the west, on Hill Street, is the regal yet undeniably pink Government House. Among others, the Duke and Duchess of Windsor lived there when he was governor during World War II. Check to see when the Changing of the Guard ceremony is—it can be quite fun to watch. (It's usually on alternate Saturdays.) Just south of Parliament Square is the octagonal Public Library, which was originally a prison (it was built in 1798).
For the best view on the island, climb the 66-step Queen's Staircase to Fort Fincastle and go to the top of the adjacent water tower (open Monday-Friday 9 am-4:30 pm and Saturday 9 am-3:30 pm).
You could duck into the Pompey Museum on Bay Street, former site of the slave market—it's now dedicated to the history of slavery. Don't miss the paintings of unschooled artist Amos Ferguson on the second floor (open Monday-Friday 10 am-4:30 pm, Saturday 10 am-1 pm; US$1 adults, US$0.50 children). As long as you're back on the waterfront strolling along the mosaic promenade known as Woodes Rogers Walk, check out the Junkanoo Expo with its displays of outlandish costumes used in the festival (open daily 9 am-5:30 pm; US$2 adults, US$0.50 children). Then you could stop at the Straw Market to buy straw hats, bags and mats, wood carvings and T-shirts.
PARADISE ISLAND
Once a scrubby feedlot called Hog Island, this spot of land off Nassau has been transformed into the high-rise gambling and leisure haven of Paradise Island, which is connected to Nassau by a bridge. The center of it all is the Atlantis Resort, which South African developer Sol Kerzner has turned into one of the most complete resort-casino complexes in the world. The huge property includes a 14-acre/6-hectare waterscape with cascades, a lazy river for tubing and—the highlight—a giant outdoor saltwater habitat filled with sharks (you walk through a glass tunnel i n their midst). In addition, there's a lagoon for snorkeling—all just off a gorgeous white-sand beach. Both the Atlantis Casino and the waterscape are public areas, open to nonguests. The tunnel through the aquarium is free; you pay fees to rent tubes or mats for the attractions that require them. There is so much to do that you could easily spend the day there going from one activity to another. The complex includes two resort hotels as well as numerous restaurants.
If you need to get out of the sun and are interested in formal gardens, the nearby Ocean Club resort (also owned by Kerzner) contains the Versailles Gardens and French Cloister. The original developer of Paradise Island, an heiress of the A & P Company fortune, not only re-created a formal European terrace garden, but also imported a 14th-century Augustinian cloister stone by stone—and threw in an eccentric assortment of statuary besides. Admission is free. Cab fare from Rawson Square runs about US$5 a person each way. Or take the ferry from the dock on Woodes Rogers Walk for US$2 each way. Or walk across the toll bridge for US$0.25.
Charlotte Amalie, St. Thomas


ST THOMAS GENERAL INFO
St.Thomas is the premier duty-free shopping island in the Caribbean. There are hundreds of incredible shops here so leave plenty of time for shopping. You might want to do your sightseeing early in the morning and spend the rest of the afternoon shopping. With a jewelry store every 10 feet, if you can't find the piece of jewelry you want, it probably doesn't exist on the planet !! HAVE FUN !!!
Beyond the crowds on Main and Back Streets is a Charlotte Amalie rich in history. If you venture along the less-traveled streets and brick alleyways, you'll stumble upon lovely old churches and Danish homes. Pastel-pretty Charlotte Amalie was built by the Danes in the 1600s as a haven for seafarers and—despite the intrusion of people and commerce—the town has maintained some of its 17th-century charm. The best way to see the sights is on a walking tour—pick up a free map from the visitors information center at Havensight or in Charlotte Amalie.
Fort Christian, painted red with a clock tower on top, is one of the oldest structures in the Virgin Islands, dating from 1672. Only part of it is open, but there is a s mall museum in what used to be a dungeon. Open weekdays 8:30 am-4:30 pm, but the fort is being restored, so call ahead in port: 340-776-4566. Near the fort is the pastel green Legislative Building, where visitors can observe the Senate when it's in session.
Seven Arches Museum on Government Hill is an impeccably restored 18th-century Danish residence filled with mahogany furniture from Barbados and other Caribbean islands. Leave yourself plenty of time for this museum, as owner and restorer Philbert Fluck is as fascinating as the museum itself. (The fruit punch he serves isn't half bad, either.) admission fee US$5. Up the hill from the museum is Blackbeard's Castle, once the site of a pirate lookout, later a fort and, until recently, a hotel. There's still a stonework look-out tower that's in good repair, though off limits to visitors. Even so, the view from the hill makes the climb well worth it: Take the Street of 99 Steps, a relic from the early 1700s. (Try counting the steps on your way up or down: I tallied 103...lol .)
The town has some distinctive old churches and synagogues, all worth visiting. Beracha Veshalom Vegmiluth Hasidim, for instance, was built in 1833, making it one of the oldest synagogues in the Western Hemisphere. (Note its sand-covered floors.) The Dutch Reformed Church, built in 1846, is a striking example of Greek Revival architecture. You can also stop in the Gothic-looking Frederick Lutheran Church, which was built in 1826, and the Memorial Moravian Church, built in 1884 of blue-colored volcanic rock.
On the outskirts of Charlotte Amalie is Frenchtown, a fishing village established by the French Huguenots. A cluster of restaurants make the town a pleasant place to spend an afternoon or evening (it's not just popular with tourists—you'll see plenty of locals, too).
San Juan, Puerto Rico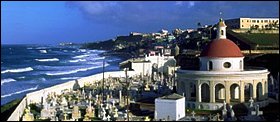 SAN JUAN GENERAL INFO
Old San Juan is stunning. Narrow streets lined with colorful Spanish colonial buildings are punctuated with shady plazas. Giant wooden doors grace the facades of the oldest buildings (some date back 500 years), most of which have undergone facelifts recently. Bougainvillea spills off balconies. Around every corner, you'll find a new treat: an old Spanish wall, a tiny chapel, intricate street statuary or a marker noting an historic event that took place at that spot. There will be organized tours from the ship but you could easily walk the cobblestone streets for hours and not be bored. But you'll likely miss something you'd regret later. So arm yourself with a map and select a few places that interest you most; then walk or catch a trolley to as many sights as you can visit without rushing. You can also join an organized walking tour arranged on the ship. Allow time to rest in one of the shady parks or plazas and enjoy a pineapple piragua (snow cone).
One of the largest islands in the region, Puerto Rico's landscape encompasses mountains, underground caves, coral reefs, white-sand beaches and a rain forest big enough to supply water to most of the island. But it's also heavily developed—San Juan is a big city with a bustling business district, glitzy resorts and casinos as well as one of the most stunning colonial zones in Latin America.
This mix of urban and natural attractions is just one of the reasons Puerto Rico is such an appealing destination. Another is the fact that the island, which is a self-governing commonwealth of the U.S., exists in two worlds. Most islanders have either lived in the U.S. or have relatives there. Yet they still hold on to island traditions—you'll see whole extended families on outings, and men playing dominoes at well-worn outdoor tables. U.S.-style fast-food restaurants abound in Puerto Rico, but so do brightly painted roadside stands selling rice and beans. Even the language reflects the island's easy biculturalism: English and Spanish are both official languages, although Spanish is most commonly used.
The Bacardi Rum Distillery, one of the most popular attractions outside San Juan, is in Catano across San Juan Bay (could it be the free drinks?). Said to be the world's largest, the rum plant distills up to 100,000 gallons a day. Many tours feature the distillery, but you can also visit on your own by taking the ferry from Pier 2 to Catano (they run every half hour; US$0.50 per person) and then a cab or publico (US$6) right to the plant. (Open Monday-Saturday 9:30 am-3:30 pm

ST MAARTEN ~ DUTCH ANTILLES
ST MAARTEN GENERAL INFO
If you had to pick a single island to represent the variety of travel experiences available in the entire Caribbean, St. Martin/St. Maarten would be a good choice. It has two nationalities, French and Dutch, which provide a good sampling of the different European cultures that have left their mark on the West Indies. It has coral reefs for diving and snorkeling, lots of beautiful white sand for beaching and lots and lots of duty-free shopping. It's partly exclusive and upscale, with pricey restaurants and boutiques, partly geared to mass tourism, with all the cruise ships and large resorts that mass tourism entails.
One vacation you won't find there, though: the sleepy island getaway with pristine tropical scenery. That kind of vacation is getting harder to find everywhere in the Caribbean, of course, but it's long gone from St. Martin/St. Maarten. In its place, you'll find an island that's well connected to the outside world, with lots of luxury hotels, glitzy casinos and excellent restaurants.
The divided status of St. Martin/St. Maarten is a result of the colonial tug-of-war between European powers in the Caribbean. The island was inhabited well before Europeans arrived, however: An archaeological dig in St. Martin has unearthed tools and pottery from Amerindian settlers that have been dated to 550 BC. When Columbus landed on the island in 1493, St. Martin/St. Maarten had been taken over by the fierce and cannibalistic Caribs, which is why the Spanish never developed the island after claiming it.
Dutch settlers arrived in the early 1600s, and every colonial power active in the Americas thereafter owned a piece of the island at one point or another. Legend has it that a Frenchman and a Dutchman finally settled an argument over territorial rights by pacing off their shares. Of the 37 sq mi/96 sq km, the French got the bigger slice, but the Dutch got the most valuable real estate—the Salt Pond and the harbor (the international airport is also on the Dutch side). The 1648 Treaty of Concordia marked the formal division. The Dutch part of the island is administered, along with the rest of the Netherlands Antilles, from Curacao, while the French part is administered from Guadeloupe.
ST. MARTIN (French side)
While less developed than the Dutch part of the island, St. Martin (pop. 35,000) has seen a great deal of building (and rebuilding, after hurricanes) in the past several years. The best resorts on the island are found there. There's a strong Mediterranean ambience, with open markets and outdoor cafes. French is the language, though service people usually know some English.
Marigot, the main town, was a tiny fishing village not long ago. Now it has a large number of excellent restaurants (most of which specialize in classic French cuisine) and duty-free shops and boutiques that sell the latest Italian and French fashions. The Port la Royale Marina, at the town's southern end, is a favorite gathering place, especially at sunset, when people come to sip cocktails and listen to live music. The marinaside bistros and cafes are ideal for both people and boat watching. A nice change from the chi-chi shops and cafes is the market area in front of the pier. On most days, locals sell souvenirs and T-shirts but on Wednesdays and Saturdays fishermen and farmers set up fish and food stands there (don't forget to bargain).
The Mediterranean atmosphere of St. Martin extends to the beach where topless sunning is fairly common and full nudity is also seen. For those who want to play it by the book, the only "official" clothing-optional beach is Baie Orientale, but you'll likely encounter naturalists in other places as well. Two other beaches worth seeking out on the French side are Baie Longue for swimming and Baie de Prunes for snorkeling and bird watching.
While snorkeling and diving are possible from the beaches, there isn't much to see except sand. For this reason, most is done from boats. An area off the northeast coast around Pinel Isle and Green Island has been designated an underwater nature preserve—it's the preferred area for scuba and snorkeling excursions. Boats leave from French Cul-de-Sac and from Baie Orientale. Pinel Isle is also popular for sunning and snorkeling from the beach.
ST. MAARTEN (Dutch side)
The Dutch side of the island (pop. 34,000) is much more developed for tourism than the French side, with big hotels and time-share developments. Philipsburg (pop. 6,000), the capital of St. Maarten, is a favorite destination of cruise ships, and it's wall-to-wall with tourists when ships are in port. Traffic and pedestrian congestion in the city is a problem. You might want to change your plans and opt for the beach if you see several cruise ships anchored offshore.
The shopping in Philipsburg is excellent, with duty-free shops that rival those of the U.S. Virgin Islands and Bahamas. Front Street is the place to go for electronics, jewelry, trendy and expensive clothing and Dutch souvenirs. On Back Street, there are ready-to-wear goods in shops and souvenirs available in an open marketplace. Make sure to bargain everywhere in Philipsburg.
The St. Maarten Museum relates the island's history and also displays changing exhibits. There's more history surrounding the town: Both Fort Amsterdam, on the western point of Great Bay, and Fort Willem, closer to Philipsburg, can be visited. The remnants of the forts are less impressive than the great views you get of the sea and shore from the high vantage points.
There are about three dozen beaches on the Dutch side. Two of the closest to Philipsburg are Great Bay and Little Bay Beaches, both of which are popular and crowded. Simpson Bay, west of town, is much quieter, making it one of the better choices. Other spots of note include Mullet Bay, Cupecoy Beach and Maho Bay (all northwest of Juliana Airport) and Dawn Beach (on the east coast), which has great reef snorkeling. Aside from Dawn Beach, the best locations for snorkeling and scuba are in the underwater nature preserve on the French side of the island.